Did you know that the UK commercial and industrial sectors generated 43.9 million tonnes of waste in 2018, of which 37.2 million tonnes (around 85%) was produced in England.*
The latest estimates for England only, indicate that waste generation was around 37.2 million tonnes in 2019*.
What are you doing to ensure your waste is being recycled?
At Less Common Metals, we are fully aware of our hazardous and non-hazardous waste streams and how we should manage them. In fact, we can proudly declare 50% of our waste is recycled for recovery.
More importantly, in accordance with the waste hierarchy, we aim to reuse as much waste as possible on site. For example, the production of our metal alloys generates small amounts of waste dross; all of which is sorted and recycled, either into new products or sent for off-site processing to recover valuable constituents for re-use.
The waste hierarchy, shown below, is a tool used to guide the appropriate management of waste. It is a preferred model showing priorities based on sustainability to reduce and manage waste. Using this model can have several benefits, it can help prevent greenhouse gas emissions, reduce pollutants, save energy, conserve resources, and stimulate development of green technologies.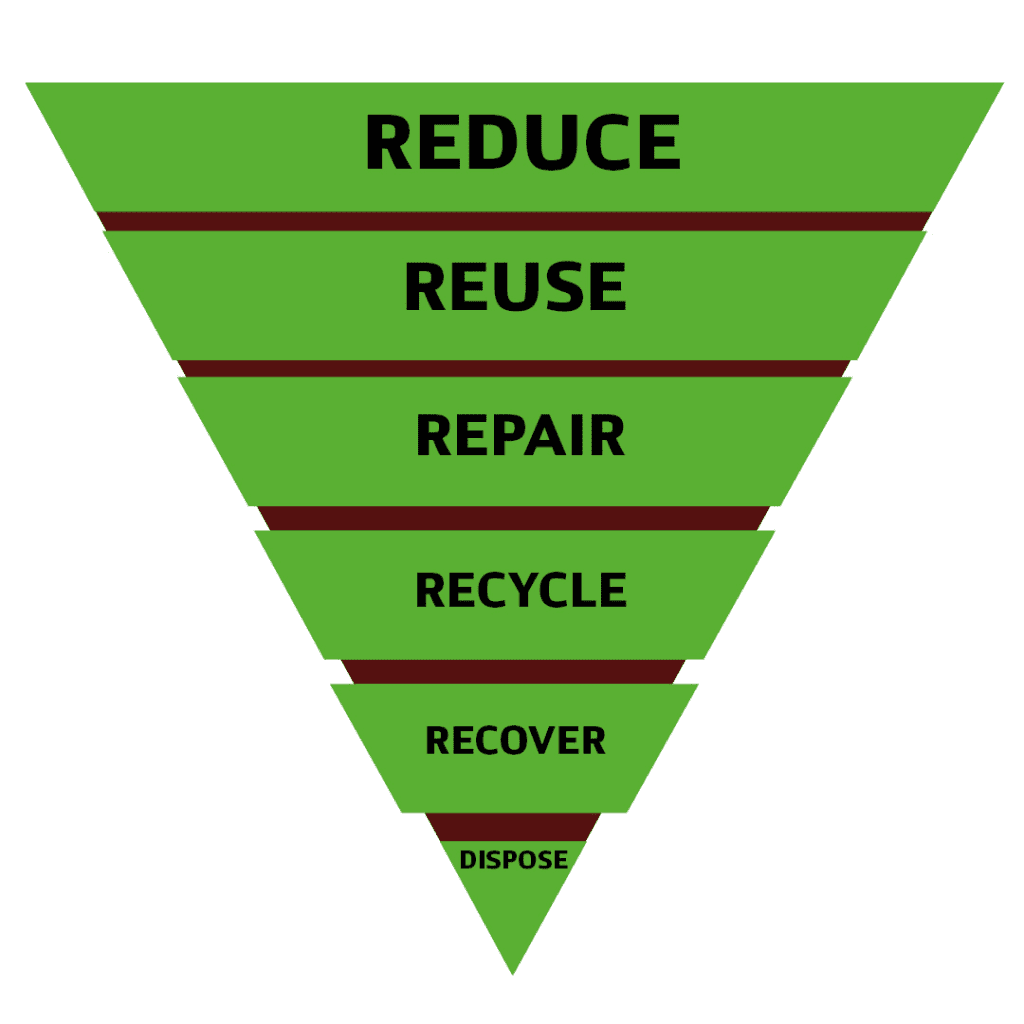 For some of our waste streams it is not possible for us to reuse them on site. Spent crucibles are disposed of in a dedicated skip and taken to landfills. The metal drums are emptied of all contents and taken to the metal skip onsite for recycling. The hazardous waste types have similar appropriate drums onsite.
Hazardous waste types at LCM include:
Waste oil
Spent PPE
Spent paint tins
Used oil rags
Batteries
Electrical items
Printer cartridges
Waste process chemicals
Waste electrical and electronic goods (so called 'WEEE waste') is sent to an authorized facility for recovering the valuable components – so even hazardous wastes can be recycled into other items. This is a specialist part of the waste and recycling industry. According to government statistics, it is estimated that 2 million tonnes of WEEE items are thrown out every year in the UK. And yes, they contain rare earth elements along with other metals. The recovery of rare earths is a process of techniques including ionic liquids, solvent extraction, electrowinning, adsorption, and precipitation.
Management at LCM have carefully studied how our direct type of work impacts the environment and the team work hard to monitor and reduce this. Waste is kept separate and stored in labeled containers and periodic waste audits checks are carried out. It is vitally important that hazardous wastes are not mixed and are kept apart from non-hazardous waste. Also, all operatives who sign for waste collections are given training on the correct completion of waste management transfer notes. We have a duty of care, a legal requirement, to ensure that all waste taken off-site is coded correctly and only passed to licensed waste carriers.
According to UK Government statistics – UK Statistics on Waste – 15th July 2021